RP 18 cm Photo Etch Bender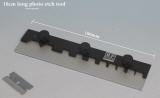 The basic difference between the three Benders is essentially the length and number of locking knobs to tighten the bending plate down. Each one has fingers on one side of the bending plate for aiding in bending various sizes of photo etch and one long flat side to the bending plate.

The PE Benders are packaged in sturdy cardboard boxes with a small instruction sheet and a razorblade.